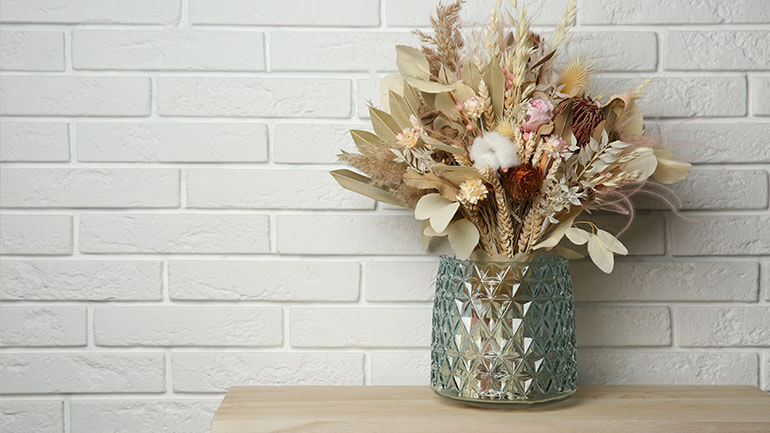 Naturally drying flowers is an easy way to preserve a beautiful bunch of flowers. Perhaps a bouquet you received as a gift or beautiful blooms from your garden.
Whether you're after home décor, in need of cake decorations, want to dry a sentimental bouquet, or dry flowers for a craft project, drying flowers (plus petals and greenery) is easy and fun.

It's important to note that not all flowers dry well. Some tightly bunched petal formations will rot before they dry leaving you with a bad smell to deal with. Flowers and greenery that holds a lot of moisture in their stems also don't dry well. Stick to woody plants like lavender, rosemary, roses, sunflowers, eucalyptus, and olive branches for a sure-fire drying experience. Or experiment and see what happens!

Hanging flowers
One of the most popular methods is to air dry flowers, greenery, and seed pods by hanging. This works best with bunches of large flowers, like roses and sunflowers, or smaller long-lasting flowers like lavender. Although more time-consuming, this traditional method lets nature do the heavy lifting. All you need is patience and a well-ventilated dark space.

1. Strip excess foliage and cut the stems to your preferred length before drying.
2. Tie the stems together with string or twine and hang them in a loose bunch or individually from a rail, nails, or hooks.
3. Make sure the room or cupboard you are using is dark and well ventilated.
4. Keep the flowers away from sunlight from the moment they're cut to retain as much colour as possible during the drying process.

The faster a flower dries, the better the colour will keep and good air circulation is key to helping flowers dry quickly. Keeping dust and light off the flowers will also help with drying your flowers as well as possible while maintaining vibrant colours. Leave them undisturbed for two or three weeks to dry. Unscented hairspray can then be sprayed over the flowers to help preserve the colour and form for longer.

Pressed florals
Another way to naturally dry flowers is to press them. This tried-and-true method keeps flowers full of colour and retains their delicate veins and textures. Pressing flowers might take you back to a treasured childhood memory of opening up a big book to find dainty pressed flowers you had long forgotten about. Pressed flowers make beautiful decorations and lovely gifts. One of the simplest ways to naturally preserve flowers, use a book and some weight, or a dedicated flower press.

When using a large book, a phone book or large hardcover with unlaminated paper pages works best. Line the pages with paper towels, unbleached paper like baking paper, and place your flowers between them, then add pressure by closing the book and stacking other heavy books on top. You can also tie a belt or fabric around the book. This method is effective for delicate flowers like cosmos.

Some flowers will last better once dried than others. And keep in mind that the colours of some leaves and petals will change during the drying process. Different sizes, textures, and varieties of flowers suit different end uses as well. Dried flowers make stunning decorations for special events or are great as home décor. Choose specific flowers for bold, statement centrepieces and dainty flowers for crafts. If you're not sure which flowers you like, dry a range and experiment to find which you like best!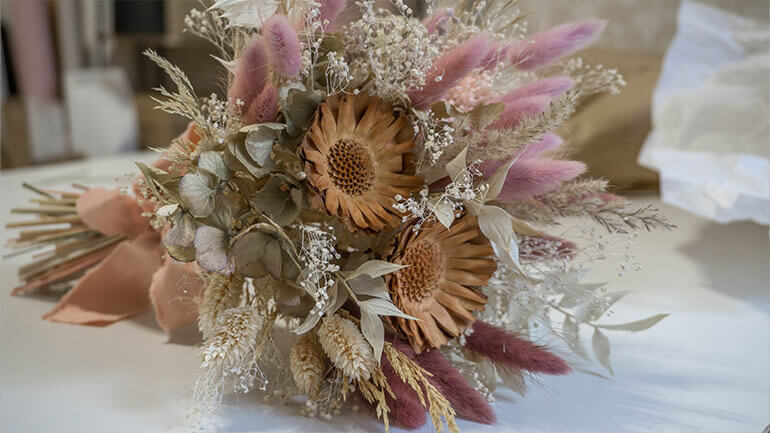 Preparing cut flowers
If you intend to hang your flowers to dry, it's best to cut them before they fully bloom as they will open a little during the drying process. If they're too mature, they can open too far and lose petals while drying. If you're cutting flowers to dry at home, do so in the morning or the evening and make sure they're dry.

For pressing, flowers that lay flat with thin petals work best and hold their colour better. Pansies, violas, and delphinium are ideal for pressing as they're small and flat already.

Choosing your flowers
How you plan to display your dried flowers determines the best flower varieties to dry. Flowers with big blooms, attractive buds, and good foliage suit home décor and gifts. Smaller flowers suit pressing and dainty crafts. Greenery works well as a base and seed pods are great fillers with plenty of texture.

'Big Blue' sea holly has a wild-looking, textured blue flower that holds its electric colour well when dried. Thanks to their hardiness, you can cut sea holly stems when the buds are completely open and they'll hold their shape well. Over time the blue will fade to a grey which is just as beautiful.

African daisies make bold centrepieces in dried arrangements. Or on their own as a bold bloom. Using flowers that have just begun to open is optimal.

Hydrangea blooms are best cut once they have matured on the bush. If you're seeking a vintage arrangement, leave the flowers on the bush because the longer they stay there, the more their colours will fade.

Celosia flowers bring plenty of drama to an arrangement. Their bright, feathery plumes make an excellent addition to colourful, textural dried flower arrangements. Choose from a range of reds, oranges, yellows as well as violet, cream, and pink celosia flowers. Picking them when they are almost completely open is the perfect time to preserve their colour.

Strawflowers are dainty, textured, and easy to grow and dry. From yellow and orange to pink, burgundy and white, strawflowers keep their vivid colours well when dried.
Roses are favourites for Valentine's Day, anniversaries, and birthdays. Drying roses is a lovely way to extend the life of a romantic gesture or special gift. Using roses that have just begun to open is the trick to capturing them at their best. Tight rosebuds also make gorgeous additions to a bouquet.

The list goes on! Globe thistles, poppies, tulips, and baby's breath all dry beautifully. For textures and filling a bouquet, dry yarrow, hydrangea, chrysanthemums, amaranth, artemisia, and astilbe for visual interest. Once you start crafting dried flower bouquets, centrepieces, gifts, and home décor there's no end in sight. The huge range of colours, textures, and flower varieties available will see you experimenting time and time again.